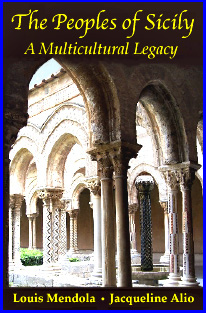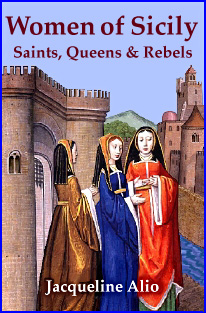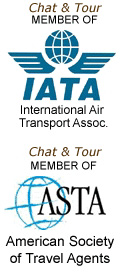 TRAVEL TIPS
Visas: If you're an EU citizen you probably won't need a visa to enter Italy. Visitors from certain other countries can visit Italy for up to 3 months without a visa, though their passports must be valid for the entire duration of their stay. These countries include the USA, Canada, Japan, Australia and others. Check the Italian Foreign Ministry website or contact the nearest Italian consulate to see whether you need a visa to enter Italy.
Credit Cards: Some restaurants and shops only accept cash. Mastercard and Visa are the most widely accepted credit cards; fewer Sicilian establishments accept American Express.
Currency Exchange: Italy's currency is the euro (€). Banks cannot exchange large amounts of currency, usually limiting transactions to €400 at a time. Visit the currency converter for current exchange rates.
Dining: Lunch, the main meal of the day, is usually served around 1, dinner at 8. Expect exceptional Sicilian wines, but no poultry. Few restaurants in Sicily serve chicken, which is roasted on a skewer and sold at stands as a take-away meal. Pizza is an evening food, and coffees containing milk (cappuccino) are usually served in the morning.
Tipping: 10% is normal in restaurants.
Smoking: Not permitted in restaurants or in any buildings open to the public, including stores and hotels.
Safety: To discourage purse snatchers women should carry small purses, if any, Along streets, carry your purse on the side away from traffic, as some thieves steal them while riding motor scooters. Backpacks should not be worn (but instead carried) in crowded areas or on buses.
Dress: In churches, including Monreale Abbey, Cefalù Cathedral and Palermo's Palatine Chapel, women should not enter with uncovered arms or wearing miniskirts or very short pants. Men should not enter wearing short pants.
Weather: Visit Best of Sicily's weather page for forecasts and current conditions.
Business Hours: Most stores and offices are closed in the afternoon from 1 until 4, when they open until 7 or 8.


Peoples of Sicily with Jacqueline Alio
See Sicily through the eyes of one of its foremost historians
Meet the peoples!
Your group deserves this tour with a scholar who is writing Sicily's history – a historian so popular internationally that some two hundred aficionados around the world are reading her online articles at this very moment. But there are also the books...
The Peoples of Sicily - A Multicultural Legacy is the most significant "general" history of Sicily published in three decades. Jackie Alio, the co-author, also wrote Women of Sicily - Saints, Queens and Rebels.
Sicily, the island in the sun, boasts the heritage of a dozen cultures in one place. Multilingual Jackie Alio is both a scholar and a popularizer. In the academic sphere, her original research into the history of the Jews of Sicily is part of a landmark movement to uncover the island's complex Judaic patrimony. In the popular realm, she is the author of insightful, interesting online articles read by millions.
Other historical authors occasionally lead tours in Italy, but Jackie is one of the few who actually lives in Sicily, which makes the approach of this tour very current and – forgive us for the overused word – unique. In planning this itinerary, we enjoyed working with somebody at the "cutting edge" of her field. It is rare indeed to tour historical sites with a leading expert whose knowledge forms the basis of numerous publications.
This 10-day (9 night) tour begins in Palermo and ends in Taormina. Overnights are at Palermo (4 nights), Siracusa (3 nights) and Taormina (2 nights). As the tour crosses Sicily (rather than making a "circuit"), you may wish to schedule an incoming flight to Palermo airport (PMO) and an outgoing flight from Catania airport (CTA). The group will have a minimum of 14 participants and a maximum of 24. In the following outline some links will open as descriptive pages of the destination guide sites Best of Sicily or See Palermo. The names in the following map are also links. Meals included in the tour price are in bold type; all breakfasts are included. The Summary, as well as Conditions follow the Itinerary. The actual price per participant will be quoted based on the number of people in your group, and specific lodging and details. This itinerary is only a basis for such a tour, which can be designed to your group's requirements.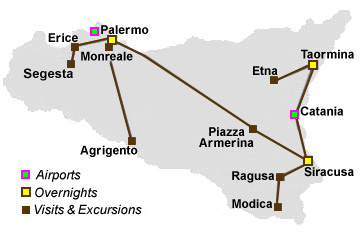 Itinerary
Sunday
Transfer from Palermo airport (PMO). Meet the tour leader and Jackie Alio at your hotel for a presentation at 7:30 this evening, followed by a welcome dinner at a local restaurant. Overnight in Palermo.
Monday
Following breakfast, we'll visit Monreale Abbey, the epitome of Sicily's multicultural art and architecture. After time at leisure for lunch in central Palermo, we'll visit the Palatine Chapel, the Cathedral and the Zisa Palace. This evening at 6, a lecture by historian Louis Mendola, author of The Peoples of Sicily and other books, followed by an evening at leisure. Overnight in Palermo.
Tuesday
Morning departure for an excursion to Agrigento to visit the vast archeological site of ancient Greek Akragas and its imposing temples. Lunch in local trattoria, return to Palermo. Overnight in Palermo.
Wednesday
Today we'll venture westward to hilltop Erice. Then we'll visit a working olive farm for a light lunch, passing Trapani's windmills and salt pans en route. Then we'll visit Segesta's Greek temple and archeological site, stopping at a winery for a wine tasting before returning to Palermo. Overnight in Palermo.
Thursday November 20th
Check-out. On the way to Siracusa, we'll visit Piazza Armerina's ancient Roman villa. Then we'll have lunch in a local trattoria, continuing to Siracusa for a late afternoon check-in and evening at leisure. Overnight in Siracusa.
Friday
This morning we'll visit the large archeological park of ancient Syracuse, the most important Greek city in Italy. We'll also visit Saint John's catacombs nearby, before exploring Ortygia. Following time at leisure for lunch, we will visit the Jewish Quarter and mikveh. (Please note that this requires descending into a deep, enclosed area via steep steps.) Then we'll visit the magnificent cathedral, built around the ancient temple of Athena. The evening is at leisure. Overnight in Siracusa.
Saturday
Today we'll take an excursion to Sicily's "Baroque" region, so-called for its distinguished architecture, visiting Ragusa. Following lunch in local trattoria, we'll make our way to Modica to visit a chocolate factory, and an old water mill that now houses a small folk museum. Evening at leasure and overnight in Siracusa.
Sunday
Following check-out, we'll visit a winery on the slopes of Mount Etna for a wine tasting and light lunch. The afternoon is at leisure in Taormina. Overnight in Taormina.
Monday
An entire day at leisure in charming Taormina. Visit the ancient amphitheatre, go shopping and enjoy the cuisine. Overnight in Taormina.
Tuesday
Check out and transfer to Catania airport (CTA).
Summary
Prices: Based upon number of participants.
Group Size: At least 14, maximum 24.
Hotels: Palermo Hilton Excelsior, Siracusa Grand Hotel Ortigia (sea view room), Taormina Grand Hotel San Pietro (sea view room). Admission fees at sites (total around 40 euros) not included. City taxes (approximately 2 euros per night) are not included. Private airport transfers (other than the scheduled group transfer) are at participant's expense.
Included:
• Airport group transfer on specific schedule.
• Accommodation (hotels and room taxes) as indicated.
• Air-conditioned coach.
• Tour leader for duration of tour.
• 1 lecture.
• 1 welcome dinner with choice of two menu variations, local wine.
• Daily breakfast buffet.
• 4 light lunches (Erice, Piazza Armerina, Ragusa, Etna).
• Mineral water (one-half liter) at meals included in the tour.
• 2 wine tastings at wineries (Segesta, Etna).
Not Included:
• Flights and travel insurance.
• Porterage and luggage handling at airports/hotels.
• Beverages not specifically indicated in the program.
• Gratuities/tips for tour leaders, driver, local guides.
• Admission fees at sites.
• City taxes.
Purchase Conditions
All services are to be prepaid at least ninety (90) days prior to the beginning of the tour ("start date" herein also referred to as the "departure"). In the event of cancellation by the client, the following portion of the total tour price will be claimed by the agency: 10% 60+ days prior to departure, 25% 45-59 days before departure, 50% 15-44 days before departure, 80% 8-14 days before departure, 100% within 7 (seven) days of departure. At its discretion, the tour operator agency may waive such claims. No refunds will be made to individual tour participants who fail to arrive in Sicily for the tour.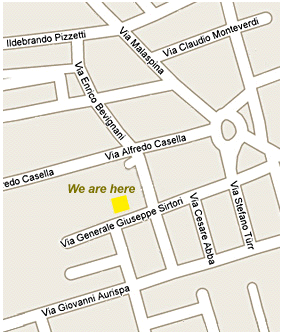 Service shall be governed by the laws of the Italian Republic and the European Union. Local laws may also apply for any tour purchased through a travel agent outside Italy, but our contract for this tour is with the agent planning/sponsoring it, not with individual participants. It is the responsibility of each participant to be in possession of the necessary travel document, such as a valid passport. Basic services are insured in compliance with Italian law. Certain fees indicated (i.e. costs cited which are outside the actual tour price), particularly admission fees at archeological sites, are understood to be beyond the tour operator agency's control and therefore subject to change without notice.
Hotel ratings are those established by the Italian travel commission and may differ from those indicated in privately-published travel guide books or websites. This tour begins in Palermo and ends in Taormina, as indicated, on the dates specified. Unless the tour is purchased by a travel agent representing us, billing is processed through the tour operator, based here in Palermo, Italy (i.e. Chat & Tour's Tradizione Turismo). In the event that the tour operator agency effects cancellation of a tour at any time prior to departure, for example due to force majeure, its sole responsibility and liability shall be limited to refunding the client the amount it has received in payment for the tour up to that date.
Legal Information: Tradizione Turismo by Chat & Tour, Via Generale Sirtori 25, 90145 - Palermo, Italy. Full Travel Agency Licence Number: 996/VII/Tur-Sicily • IATA Tids 96 27583 0 • VAT (Partita IVA): IT04943140824 • ASTA Member Number: 900166379 • Site Member: ID 9310610 • NTA Member: TID 034 250. (Read more about us.)
To Begin...
To begin planning this tour, contact us at info@sicily-concierge.com indicating "Peoples of Sicily" in the subject line, or by phone at +39 091 626 9685, or fax +39 091 380 9900. From the United States or Canada you may also contact us at 312-239-0420, and from Australia 61-28011-3849. (Please remember that there's a six-hour time difference between Central European Time here in Italy and American Eastern Time in Toronto and New York.)
© 2017 Chat & Tour, Palermo, Italy.
Photos © 2013 Jacqueline Alio. Used by permission.

Print this page